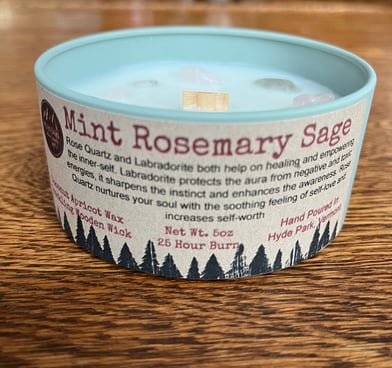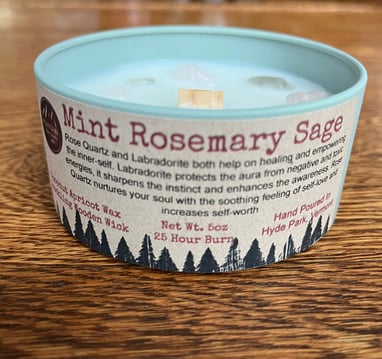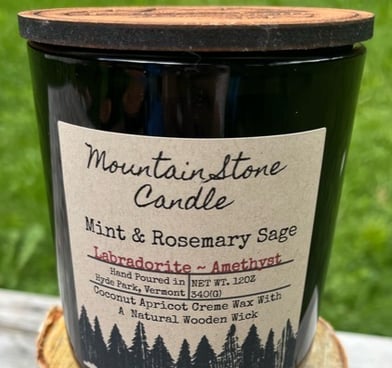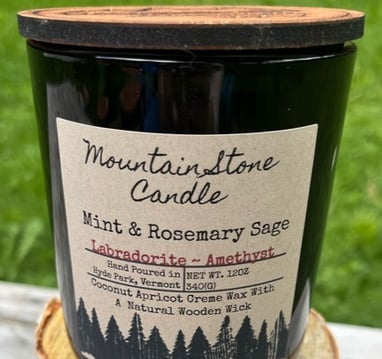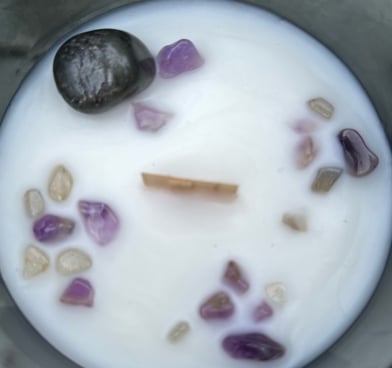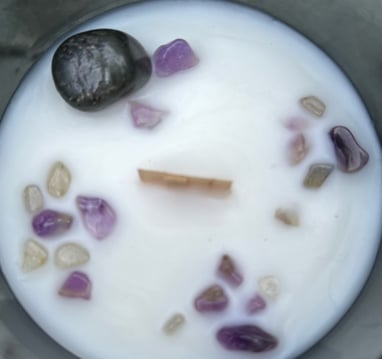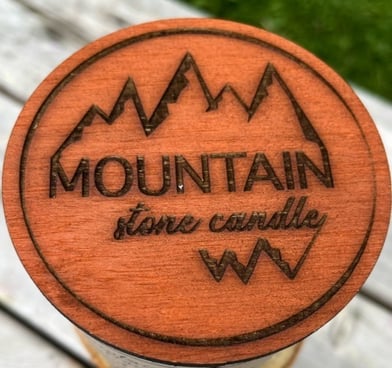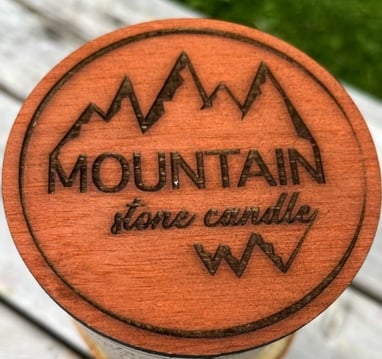 12oz Mint & Rosemary Sage Burn Time: 65+ Hour
Picture a fresh springtime herbal garden, capture that experience in a scent. Cool and Crisp notes of mint leaves and spearmint give way to herbal and woody accords to round out this fragrance. This fragrance oil is infused with natural essential oils, including spearmint, eucalyptus, armoise oil, Rosemary & Sage.
Fragrance Notes:
Top: Pine, Eucalyptus, Spearmint
Middle: Anise, Mint, Rosemary
Base: Wood, Cedar, Sage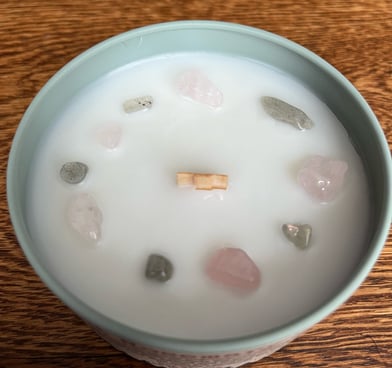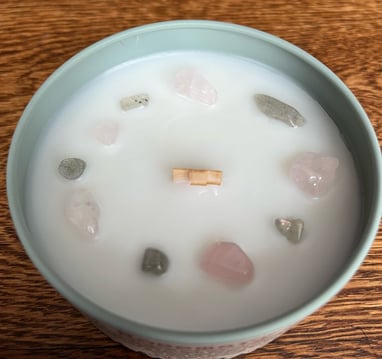 5 oz Travel Tins 30+ Hour Burn Time
Crystals are Rose Quartz and Labradorite. Both help on healing and empowering the inner-self. Labradorite protects the aura from negative and toxic energies, it sharpens the instinct and enhances the awareness. Rose Quartz nurtures your soul with the soothing feeling of self-love and increases self-worth.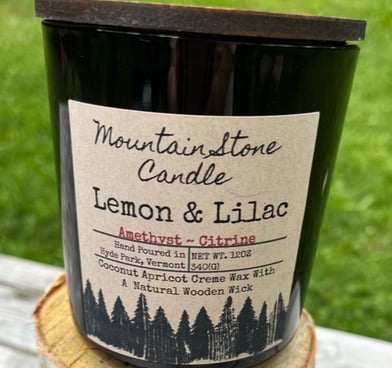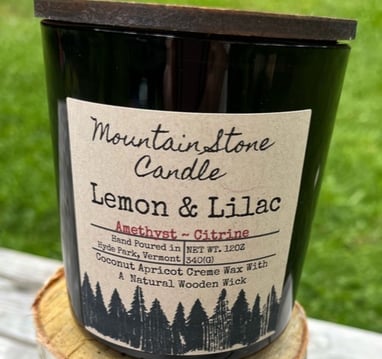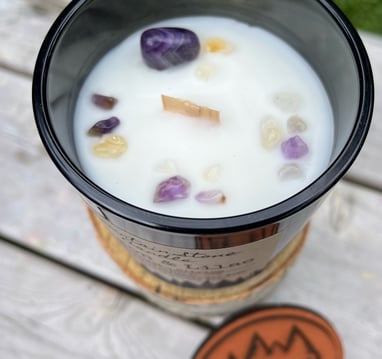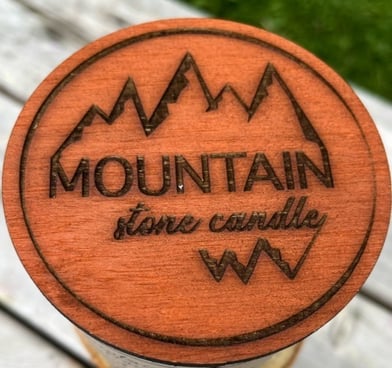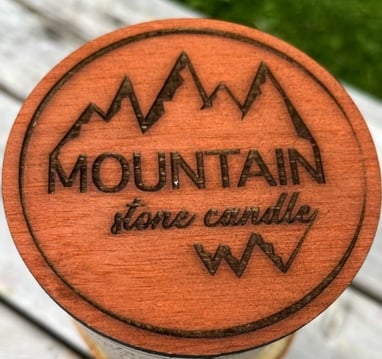 12 oz Lemon & Lilac Burn time 65+ Hours
Calabrian Lemon & Lilac Leaves Crisp fresh lemon, mingles with green and herbal notes slightly spring slightly summer. A great fit for multiple seasons.
Fragrance Notes:
Top: Calabrian Lemon, Fresh Basil
Middle: Jade Waters, Green Lilac
Base: Sea Breeze, Delicate Juniper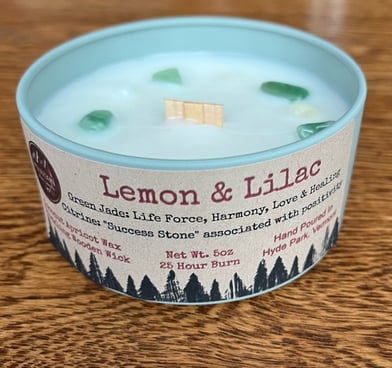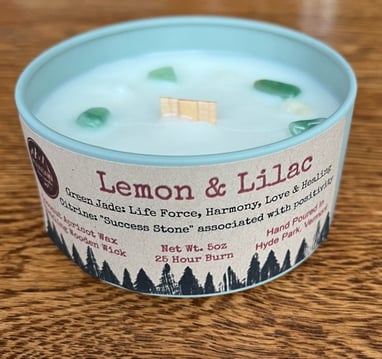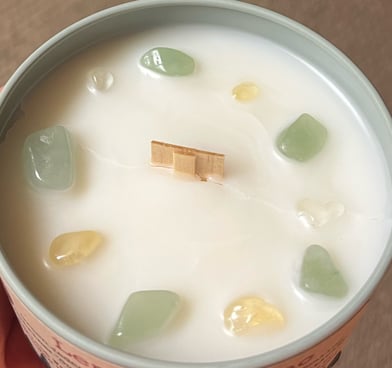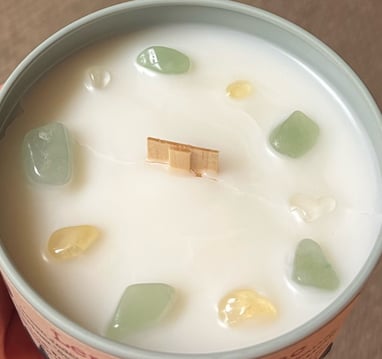 5 oz Travel Tins 30+ Hour Burn Time
Crystals are Green Jade and Citrine
Jade: Life Force, Harmony, Love & Healing.
Citrine: "Success Stone" associated with positivity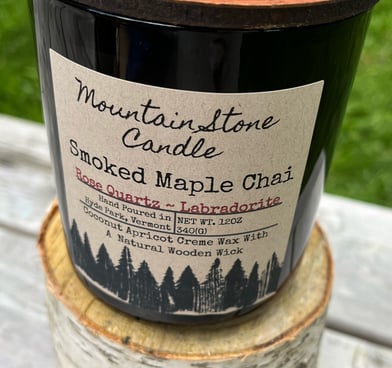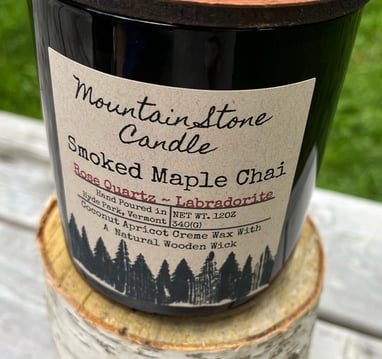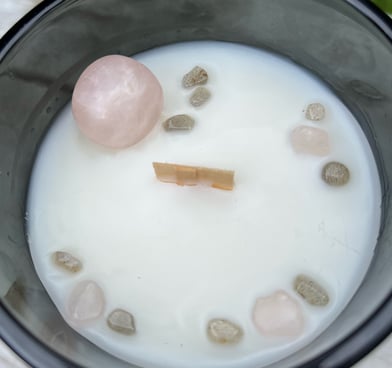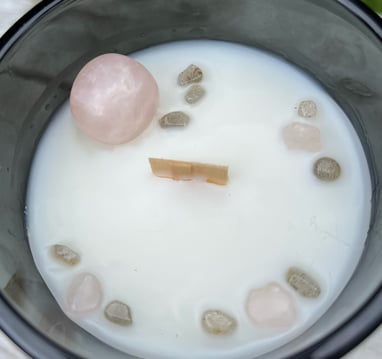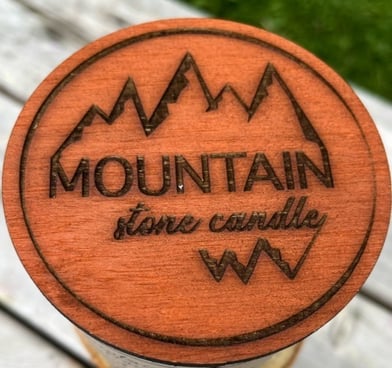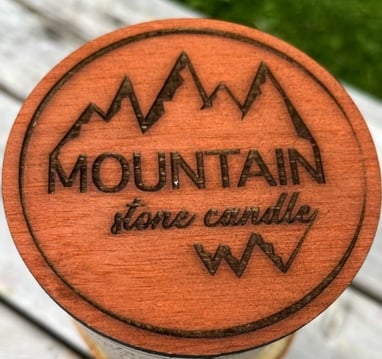 12oz Smoked Maple Chai Burn Time 65+ Hour
Sweet maple, grated ginger, brown sugar and buttermilk linger for memories of warm, creamy pastries and decadent sweets. Resinous woody notes intermingle with sweet smoke in this ode to oud. Smoked Oud fragrance oil captures an image of soaring cathedrals and censers with a blend of incense, smoke, oud, resin (frankincense, myrrh, amber), and musk. A hint of a spearmint and leather bind this distinctive fragrance together.
Fragrance Notes
Top: Spearmint, Incense, Grated Ginger, Nutmeg, Orange Zest
Middle: Smoke, Maple Syrup, Cinnamon Leaf
Base: Oud, Leather, Musk, Amber, Myrrh, Frankincense/Olibanum Vanilla Bean, Brown Sugar, Buttermilk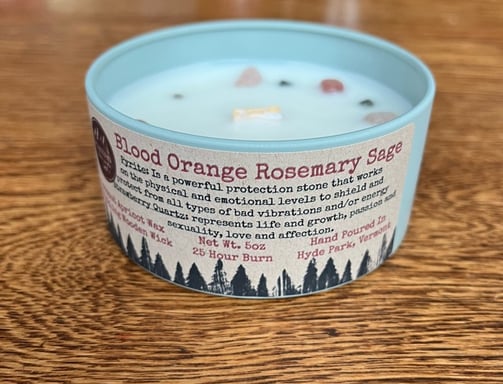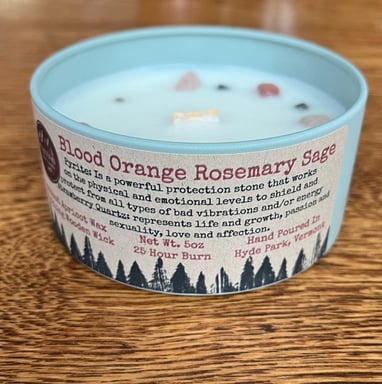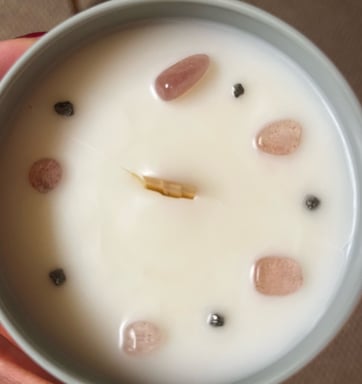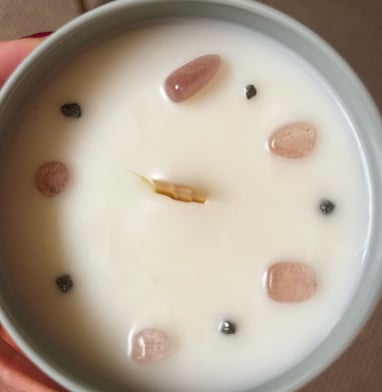 5oz Travel Tin: Blood Orange & Rosemary Sage 30+ Hour Burn Time
Crystals: Pyrite Is a powerful protection stone that works on the physical and emotional levels to shield and protect from all types of bad vibrations and/or energy
Strawberry Quartz: represents life and growth, passion and sexuality, love and affection.
The fresh citrus aroma with green undertones full-bodied notes of bergamot and grapefruit fuse with an herbal bouquet. Indulge in some aromatherapy and surround yourself in the herbal mélange of Rosemary Sage fragrance oil. Cooling eucalyptus and pine notes uplift fresh green florals and rosemary, while earthy sage and cedar lend this fragrance oil an enticing woodsy base. An infusion of fir needle, eucalyptus, and cedar leaf essential oils reinforce the botanical beauty of this scent.
Fragrance Notes:
Top: Eucalyptus, Pine, Bergamot, Grapefruit
Middle: Rosemary, Green Floral, Orange, Neroli, Green Leaves
Base: Cedar, Sage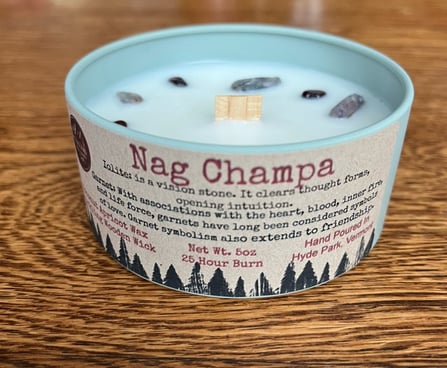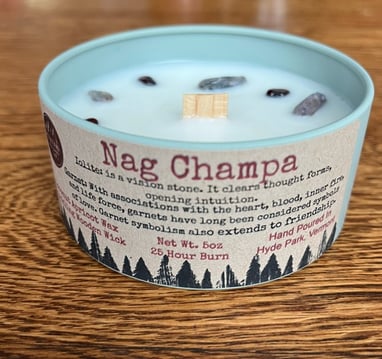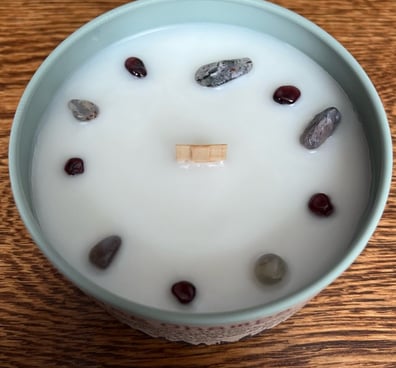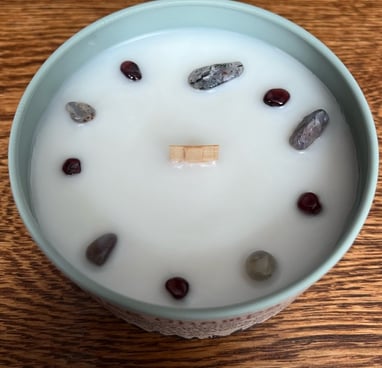 5 oz Travel Tin Nag Champa Burn Time: 30+ Hour
Crystals: Iolite is a vision stone. It clears thought forms, opening intuition.
Garnet: with associations with the heart, blood, inner fire, and life force, garnets have long been considered symbols of love. Garnet symbolism also extends to friendship.
Relax and unwind with the aromas of fragrant incense of Nag Champa. A top note of powder opens up to warm amber with hints of floral rose and lily of the valley. Sandalwood and patchouli blend with dark musk and woody violet in the base. The earthiness of Nag Champa is reinforced with patchouli and geranium essential oils.
Fragrance Notes:
Top: Powder
Middle: Lily of the Valley, Rose, Amber
Base: Patchouli, Violet, Sandalwood, Dark Musk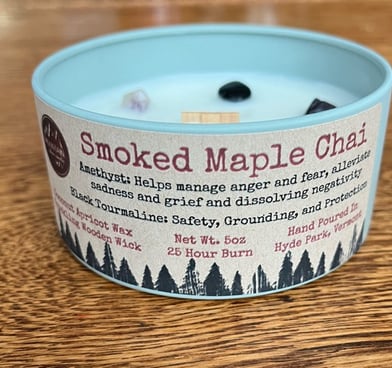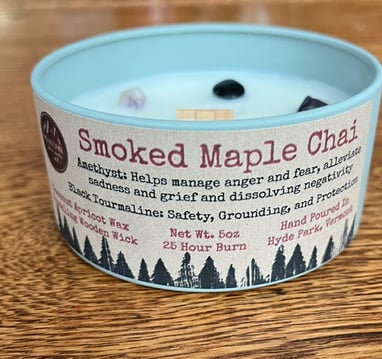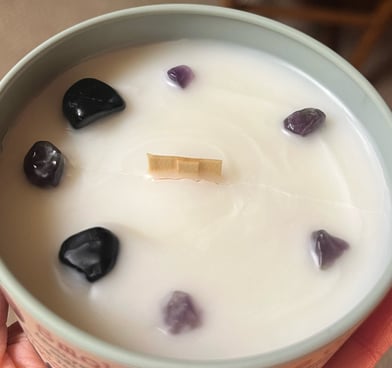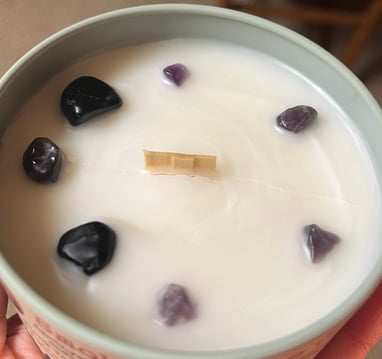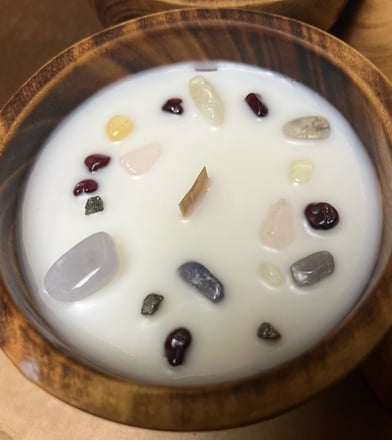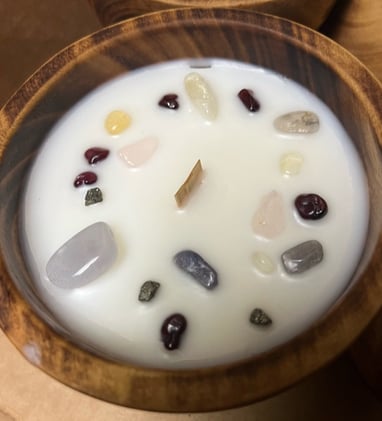 Wooden Bowl Crystal Candle
4" Diameter 2.5" Height hand carved from the Jacaranda Tree Wooden Bowl Crystal Candle.
40 Hour Burn Time
Jacaranda Tree is a sub-tropical tree native to south-central South America that has been widely planted elsewhere because of its attractive and long-lasting violet-colored flowers.
Scent: Oak Moss & Amber
Oakmoss and Amber is a modern fragrance with universal appeal. This captivating fragrance oil begins with hints of orange, grapefruit, and an infusion of sage that enhance the natural earthy quality. Lavender adds a soft floral and herbal touch to the heart of this scent, while oakmoss, amber, and tonka round out the base for a beautiful, deep character.Appealing to both masculine and feminine sensibilities, this elegant fragrance adds a refined spirit to candles. Oakmoss and Amber fills even large rooms like foyers or open living areas with a sensual atmosphere, and adds an intriguing infusion to more intimate spaces. This fragrance oil is infused with natural essential oils, including sage, lavandin, and orange.
Fragrance Notes:
Top: Grapefruit, Orange, Sage
Middle: Lavender
Base: Tonka Bean, Amber, Oakmoss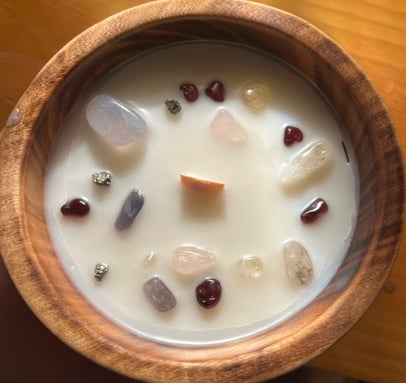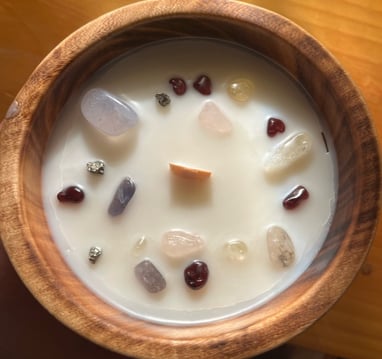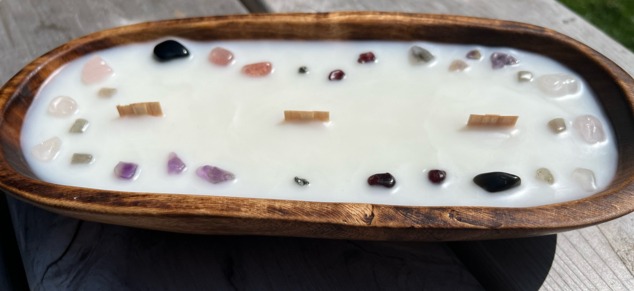 5oz. 35 Hour Burn Time Travel Tin Smoked Maple Chai
Amethyst: Helps manage anger and fear, alleviates sadness and grief and dissolving negativity
Black Tourmaline: Safety, Grounding, and Protection
Wooden Dough Bowl Crystal Candle
3 Wick
40 Hour Burn Time
7oz. Jacaranda Wooden Dough Bowl Crystal Candle
Crystals will always vary on each candle
Scent: Vanilla Birch
Fresh white birch, sweet Madagascar vanilla, and warm sandalwood come together in this cozy, soothing fragrance.
Scent Notes:
Top – white birch
Middle – vanilla
Bottom – sandalwood