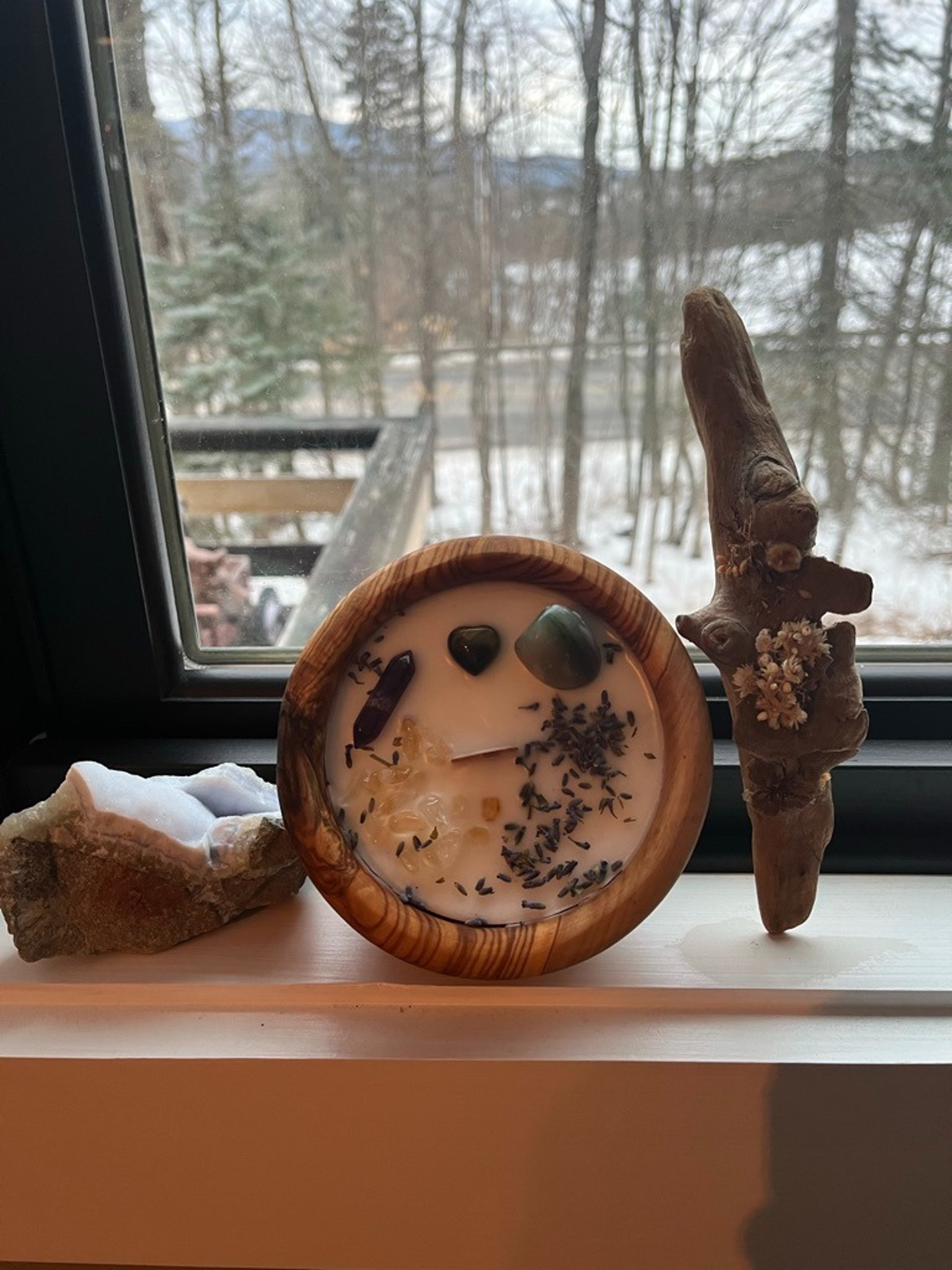 Mountain Stone Candle is a small batch hand poured candle business in the town of Hyde Park, Vermont. We only use Coconut Apricot Creme Wax, Wooden Wicks, all Natural Essential oils and Fragrance Oils, and High Quality Crystals.
Coconut Apricot Creme Wax is gluten free, toxin free, paraben free, phthalate free, and come from renewable sources. Every Candle we make is

100% Phthalate-Free Fragrance Oils.
Crystals are for their healing properties.
When heat and pressure is applied on crystals, it "grows" and "sheds" some of its energy.
The wooden wicks are made from native, sappy fruit trees, and sourced from Forest Stewardship Council (FSC)-certified mills. These wood species are not listed in the CITED appendices or on the IUCN Red List of Threatened Species.

Are wooden wicks safe? Yes, Wooden wicks are derived from natural resources (wood) and are much safer than the traditional cotton wick which are often coated with harsh chemicals.

Wood Wicks are better for a number of reasons. First of all, they are natural and untreated. They burn longer and wider for a lovely, mesmerizing flame, do not emit black smoke, which is toxic and they also provide a lovely, soft crackling sound, much like a fireplace or campfire.
Our Mission is to create healthier options for your candle experience.
Why coconut apricot wax? Coconut wax is made from coconuts, which are organic and sustainable sourced (re-grow quickly). Provides a clean and slow burn, has a creamy and gorgeous texture, produces less soot, less of a toll on the environment than traditional soy or paraffin waxes, gives a lovely scent throw, it's natural, non-toxic and skin safe.
We encourage you to try a massage with the warm wax. Yes it is safe on your skin! Coconut wax is hydrating for your skin. It is recommended that you test a small spot on your skin first.
Allow wax to burn for at least 1 hour, extinguish the flame and carefully dip your finger into the wax and smooth onto your skin.
Wick Care: First time you go to light your candle make sure to hold the lighter for at least 10 seconds on the wooden wick. It is very important to clean the wick before each burn. The leftover ash on the wick will smoke unless you clean it off. Simply pinch the remains of burnt wood with your fingers using a paper towel or use wick trimmers to discard the ash. Please remove the one largest stone in your 12oz glass vessel candle as it may put out the flame. Wash the stone clean and carry with you.
Now you are ready to burn your candle. Relax Breathe & Enjoy!!
Candle Care:
All Candles have a memory. The first time you go to burn your candle allow it to burn for at least 2 hours or until all of the wax is melted from one end of the vessel to the other end. This will ensure a longer life to your candle. If you burn the candle for a short period of time without the wax completely melted at the top it will create what is called "tunneling".
My goal is to create candles that won't tunnel so that none of that glorious coconut apricot wax gets wasted.
Please keep out of reach of children and pets. Never leave a candle to burn for more than 4 hours.
Important: Never put water on a burning candle as oil and water do not work. It will cause a fire.
STONES AND THEIR MEANINGS
Rose Quartz - (Heart Chakra) Is a Stone of the Heart. A crystal of Unconditional Love. Tenderness and Healin
Amethyst - (Crown & Third Eye Chakra) Amethyst Encourages Clarity, Focus, Spirituality Extremely Protective
Green Adventure - (Heart Chakra) Maintaining Energy & Optimism in Challenging Time, Luck & Prosperity
Citrine - (Solar Plexus Chakra) Envisioning Your Goals & Pursuing Them. Strengthen Self - Esteem And A Positive Outlook
Red Jasper - (Root & Sacral Chakra) Dynamic Energy, Helpful For Dream Recall, Courage, Balance
Black Tourmaline - ( Root Chakra) Protection Against Negative Energy, Metaphysical Purposes
Labradorite - (Throat Chakra) Known In Modern Usage as the "Stone of Magic" It can awaken your hidden power of Divination and Prophecy
Strawberry Quartz - (Heart Chakra) Sister stone to the Rose Quartz - Extremely useful for promoting Self-Love, and will also bring with it energies of friendship
Pyrite - Is a powerful protection stone which shields and protects against all forms of negative vibrations and/or energy, working on the physical, etheric, and emotional levels
Blue Lace Agate - is a stone of communication, helping those who have difficulty being heard by others, or who need confidence and articulation to share their truths
Tigers Eye - helps balance the soul, alleviate anxiety, and restore confidence.
FEATURED ON WCAX CHANNEL 3 NEWS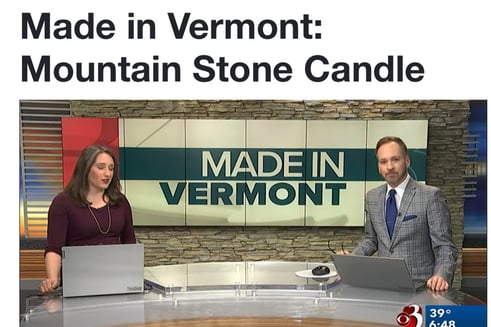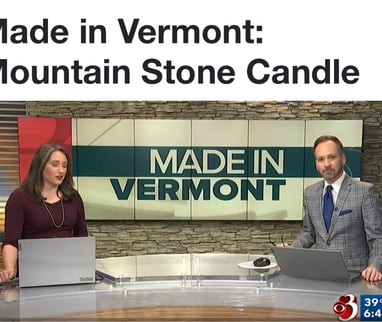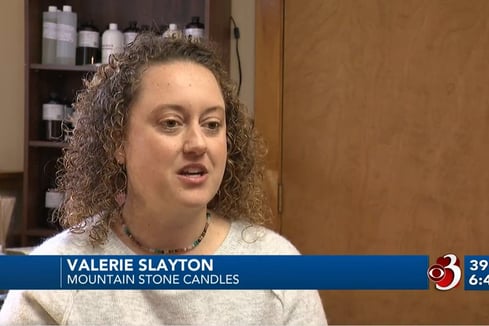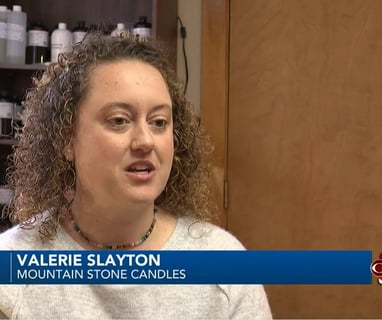 "Crystals reflect back to us the truth we hold in our hearts."
-Andrew Pacholyk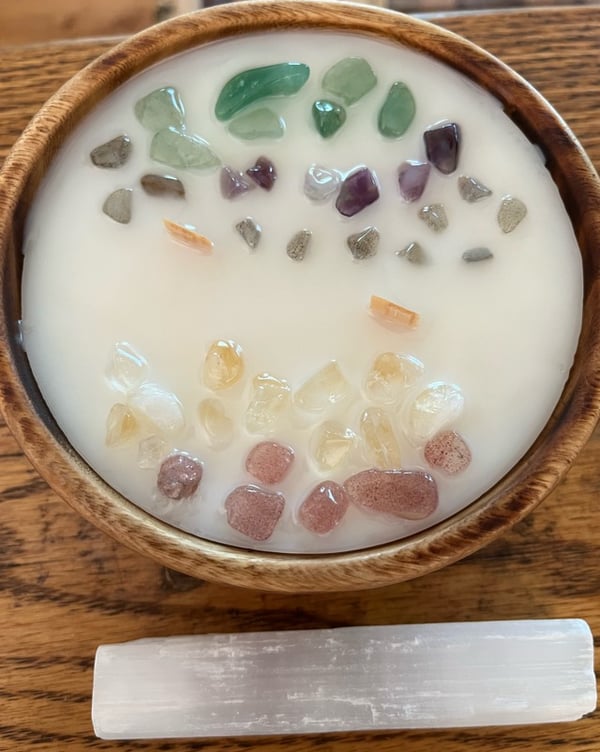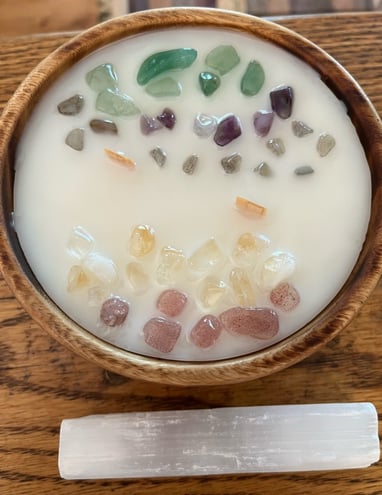 Searching For Us In Vermont?
Here Is Where You Can Buy Our Candles Locally In Vermont
Morrisville, VT
MOCO - 46 Pleasant St. Morrisville, VT 05661
MOSS Boutique - 85 Portland ST. Morrisville, VT
Cusson's Tax Prep & Accounting LLC - 540 Route 15E #2, Hyde Park, VT 05655
Johnson, VT
Zoey's Kaleidoscope - location 942 Vermont RTE 15 W Johnson
Stowe, VT
Spruce Lodge Spa at the Mountain
Saint Albans, VT
Awaken Yoga & Creative Arts Studio
13 Center Street Saint Albans
Hyde Park, VT
Two Sons Bakehouse - 246 Main St. Hyde Park, VT